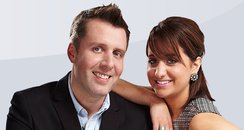 As part of Help A Capital Child Week, the Thornham Team will be joined by Gillies & Emily, Capital FM South Coast breakfast presenters on Tue 22 October.
Gillies & Emily will be assisting Cliff & Josh in the day to day activities of the yard.
Now obviously, they are not used to working with the outside elements, so lets hope the weather & Cliff is kind to them. If you are reading this guys you may want to bring some wellies!!
Help a Capital Child is committed to improving the lives of disadvantaged children throughout the UK. The money raised will be used to fund specialist Teenage Cancer Trust units in Hospitals across the country, which are specifically designed to make life a bit better for teenagers. They can share their experience with people of a similar age, and the environment is designed to allow them to still be a teenager despite everything they are going through.
If you want to see how our apprentices get on, why not pop down between 11.30am and 12.30pm on Tuesday 22nd Oct.
You can make a donation by visiting their website, or clicking here.
The Thornham Team
01243 375 335
info@thornhammarina.com